What you need to know about pet transport
Remember – this is all about your pet. Do not be afraid to ask questions.
Make sure you seek information from professionals in the field your question relates to – VenturePet for pet travel – Vets for Pet Health matters. VenturePet are here to ensure your pet has a safe and enjoyable travel experience and you have peace of mind knowing your beloved pet is getting the best transportation service available.
The carriage of pets by air must comply with Airline and Country rules and IATA Live Animal Regulations which specify container design, documentation, labelling and handling requirements. VenturePet ensures compliance with these.
Pets travel in the cargo section of the aircraft (usually below the passenger deck) which is temperature controlled and pressurised (same as in the passenger cabin) but unlit.
For travel comfort it is recommended that collars or harnesses are not worn while pets are flying, these along with leads VenturePet can securely attach to outside of travel cage if required. A small soft toy and pet blanket can travel inside the cage (space permitting) but check with VenturePet if you are unsure.
If you stress, your pet can stress, as they pick up on your moods. Try to maintain calm around your pets as much as possible and talk to them to reassure and relax them.
Do not feed your pet within 6 hours of the flight as this can cause discomfort during travel and possible soiling of the cage. Always allow them access to water to reduce risk of dehydration.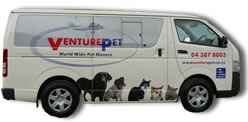 Here are some helpful links with more information about International Pet Travel